<< Back to JobsIreland.ie News
EURES/JobsIreland.ie recruit 100 Nurses
Nursing & Healthcare Recruitment Project
Introduction
The current healthcare recruitment project which is led by EURES Ireland Advisors Edward Kavanagh, Cathy Moran and Anne McCormack who work in the Department of Employment Affairs and Social Protection commenced in 2015. Initially, this project was aimed at recruiting nurses for Irish based private nursing homes. This sector has experienced huge expansion in recent years and it was not possible to source sufficient experienced nurses in Ireland to meet their needs. Soon afterwards Irish public hospitals began a nurse recruitment campaign for which they sought assistance from EURES Ireland. In recent months due to a dearth of healthcare staff in other sectors, the project has been extended to include various healthcare professionals.
Advertising vacancies
JobsIreland.ie, the EURES Ireland website and their Facebook page as well as the Public Employment Service websites of Italy, Spain and Portugal are used to promote job vacancies in the Irish healthcare sector. The Italian Nursing Board (IPASVI) in tandem with some Italian universities is also promoting these job vacancies.
To date, nurse recruitment has been centred in Italy as research conducted by the project leaders found that there were a large number of highly qualified, unemployed nurses there who were willing to relocate to Ireland in order to take up employment.
Recruitment events and study visits
In June 2015 a jobs fair was organised for a number of Irish employers in the Tuscan town of Lucca where they met with suitable candidates. During this event it was agreed that in order for EURES Advisors from Italy to get a greater understanding of the role of a nurse in an Irish private nursing home setting, a study visit would take place in Ireland in October 2015. During this study visit, a delegation of Italian EURES Advisors and Italian National Co-Ordination Office personnel met with employers and Nursing Homes Ireland representatives. The EURES Ireland coordinators also arranged for the Italian delegation to visit an Irish nursing home in Co. Waterford. This resulted in the development of a formal Service Level Agreement (SLA) between EURES Ireland and EURES Italy which set out the framework for the project. The SLA has been amended on a number of occasions due to the increase in the number of Italian EURES Advisors working on the project and to the expansion in the number of Irish employers in both the private and public sectors wishing to recruit nurses and other healthcare professionals through this project.
Building and strengthening relationships
Since June 2015 a further five dedicated recruitment events have been arranged for Irish employers in Italy. EURES Italy has been exemplary in the assistance they have given to this project. Through their links with IPASVI, Italian Universities and other Italian stakeholders they have promoted Irish healthcare vacancies to suitable candidates and supported these candidates by providing them with funding through the "Your First EURES Job" scheme. This scheme provides financial supports to assist EU citizens who wish to relocate within the EU to take up employment. Funding was provided to candidates
To apply for qualification recognition by the Nursing Midwifery Board of Ireland.
To take English language courses.
In addition, relocation allowances were paid to assist successful candidates with their move to Ireland to take up these jobs.
In order to work as a nurse in Ireland all candidates are required to register with the Nursing and Midwifery Board of Ireland (NMBI), however, for many of them this was a confusing and difficult process. In an effort to simplify this project leaders met with NMBI personnel on a number of occasions to develop a "Tips Sheet" for each country outlining
The documents required
Where they could be located.
The English language requirements.
This significantly reduced administration times and it now takes no more than four to six weeks for a candidate to register once they have the necessary level of English language proficiency.
Expanding the project
In February 2017 EURES personnel from Italy and a number of Italian stakeholders returned to Ireland for a monitoring visit. During the visit they met with Italian nurses who had been recruited by a public hospital and by private sector nursing homes. The Italian visitors were given a tour of the hospital and a Waterford nursing home which gave them a more in-depth understanding of the Irish healthcare setting. This resulted in further enhancing relationships between all stakeholders involved in the project and an increased number of applications from Italian nurses.
The healthcare project has recently been expanded to assist Irish employers to recruit healthcare assistants and other healthcare professionals. Therefore, it is envisaged to arrange another visit to Ireland by EURES Advisors and stakeholders from other parts of Italy and from other EEA countries to help to promote these vacancies.
Results
To date, employers in Cork, Dublin, Galway, Kilkenny, Laois, Louth, Offaly, Roscommon, Waterford, Westmeath and Wicklow have recruited healthcare professionals from Croatia, Italy, Portugal, Slovakia, Spain & Romania through this project.
91 nurses have been recruited by public hospitals and private nursing homes since 2015.
A further 15 have job offers pending with Irish employers.
Between January 2016 and January 2019 over 550 CVs were received from various EEA countries from candidates looking for employment in the Irish health care sector.
The number recruited is significant given the shortage of nurses and other healthcare professionals throughout the world and the competition amongst employers from many countries for qualified candidates.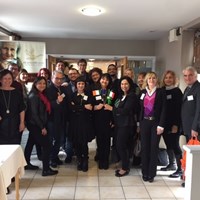 Visit by DEASP, EURES Italy and other Italian stakeholders to HavenWood Retirement Village in Waterford (March 2017)