<< Back to JobsIreland.ie News
Looking for a New Job in the New Year? Get your CV in shape for 2019.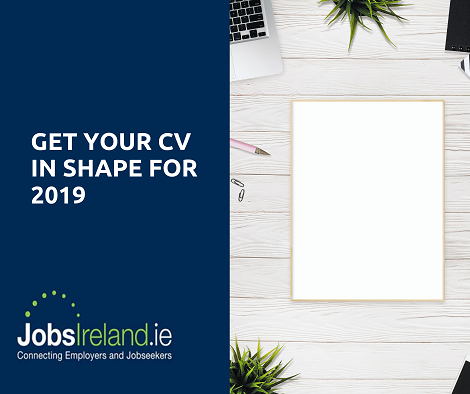 Looking for a New Job in the New Year? Get your CV in shape for 2019.
Your CV is still a vital tool in successfully landing the ideal job you are looking for. But, is the CV you have, up to date and does it showcase your professional abilities to prospective employers? Below please find the essential elements of a strong CV
Personal Statement: This is a short introduction to your key skills, experience and knowledge. Keep it short, to the point and positive. It is in effect a professional add about you.
Core Career Skills: Use bullet points to showcase your key relevant job skills
Detailed Career Summary: List your roles starting with the most recent. Also explain any gaps in the timeline. If you have voluntary experience list that in this section.
Education/ Qualifications: Outline your education to date focusing on anything that is relevant to the role you are applying for.
Reference: Include referees, or include the phrase "References available on request"
Interests/ Hobbies: This section is optional. Include if relevant to the position you are applying for.
Tips:
Check for Typos, spelling errors
Use clear fonts e.g. Ariel or New Times Roman
Keep font colours professional
CV length should be 2 pages maximum
Be honest in your CV - it's a very small world
Include your contact details
Use positive language paying close attention to the job description you are applying for.
Finally, keep the content of your CV up to date.